Who We Are
Let's face it...nothing about home mortgages is simple - until you have someone on your side who understands the process inside and out. Here at Neighborhood Lender we take what is typically an overwhelming and complex process, and transform it into an easy, straightforward (and dare we say... enjoyable) experience.
How do we do it? By hiring world-class mortgage consultants who train rigorously all year long. These people are serious about saving you money, frustration and painful head banging. We focus on sound underwriting principles, and dedicate ourselves to working with only the most qualified borrowers. And because of all that, we've been able to save clients more than $5 million in closing costs - now that's a lot of extra cash!
Our Approach
Closing costs average $3,350, and that hefty sum typically comes straight from your pocket. We don't really think that's fair, which is why we decided to start doing things a little differently. In fact, we pay your closing costs (go ahead and read that line again...it's for real). So whether you're financing your primary residence, a vacation home, or an investment property, the closing costs are on us. Wondering how we do that? It's simple - we leverage the relationships we've built with our lending partners, and we take the time to think just a little bit outside the box.
Our Service Locations
Neighborhood Lender works with residents in North Carolina, South Carolina, Virginia, Maryland, and Ohio for all their home mortgage and home refinancing needs. If you live — or plan to live — in one of these states, we would love to talk to you. We promise it won't be painful - we just want to see how we can help.
Our Licenses
North Carolina Commissioner of Banks License #B-141368
South Carolina Commissioner of Banking License #MB-0915500-0915501
Virginia Bureau of Financial Institutions #MC-5553
Maryland Commissioner of Financial Regulation License #20076
Ohio Department of Commerce Division of Financial Institutions #MB.804099.000
NMLS Broker #69349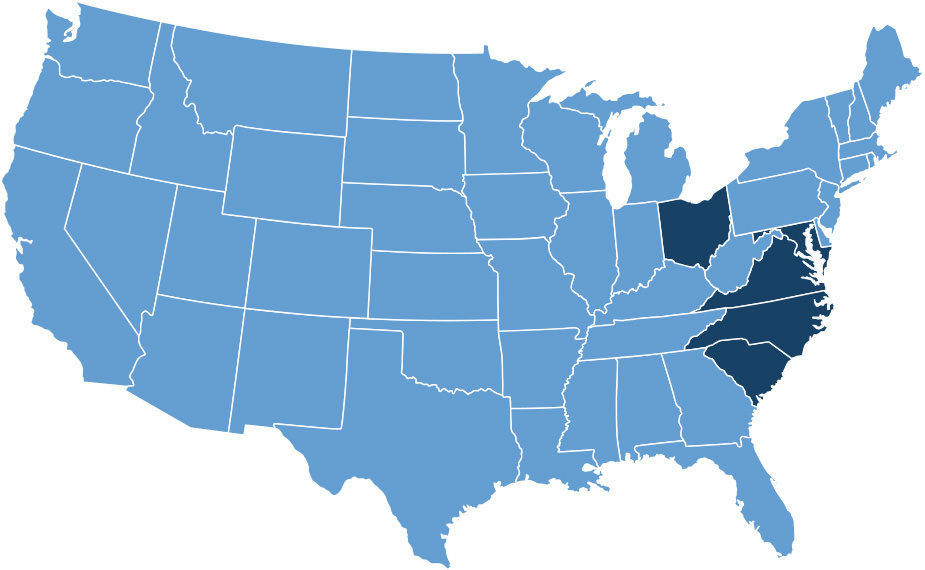 Neighborhood Lender Locations